Shopping can be an attraction, if there are the right shops and stores! In Fargo ND you will find a great mix of both well known chain stores and unique, one of a kind, independently owned shops and galleries. Easily spend a whole day or even a weekend browsing and shopping in the the Fargo ND community. If you're new to the Fargo area, you may need to stock up on home wares or even dorm room accessories and you won't have a problem finding everything that you need. Just in town visiting? Take home unique souvenirs for everyone!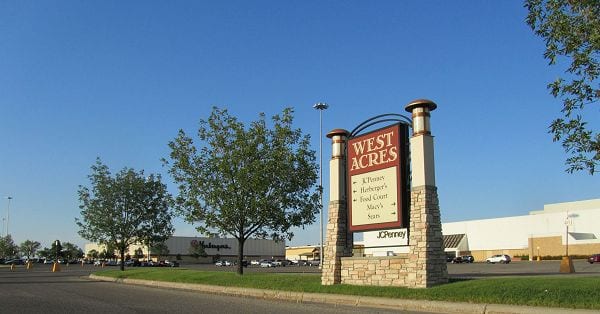 West Acres Shopping Center
The West Acres Shopping Center is THE BEST place to satisfy all of your shopping needs.
Canadian Visitors: View the exchange rate table to the right to prepare for your next visit.
Abode Decor & Gift
4340 13th Ave S
Fargo, ND 58103
701-356-5261
AENDEE
5 South 8th St
Fargo, ND 58103
701-261-8816
Arthaus Retrobilia & Framing
21 8th St S
Fargo, ND 58103
701-478-8967
Broadway Shoe Company
102 Broadway N
Fargo, ND 58102
701-478-7463
Burlington Coat Factory
4305 13th Ave S
Fargo, ND 58103
(701) 277-1875
Buyer at Large
18 8th St S
Fargo, ND 58102
1-888-339-2553
Charmed Boutique
12 Broadway N
Fargo, ND 58102
701-478-3993
Costco
750 23rd Ave E
West Fargo, ND 58078
701-281-2220
DSW (Designer Shoe Warehouse)
4436 13th Ave S
Fargo, ND 58103
(701) 281-3925
Fowler's Heritage Company
210 Broadway, Suite 101
Fargo, ND 58102
701-356-7778
HomeGoods
1500 13th Ave E
West Fargo, ND 58078
701-281-1720
Kittsona
610 Main Ave
Fargo, ND 58103
701-936-0608
LOT 2029
612 Main Ave
Fargo, ND 58103
(701) 232-2468
Mainstream Boutique
2603 Kirsten Ln S #103
Fargo, ND 58104
701-426-8071
Marshalls
1500 13th Ave E
West Fargo, ND 58078
701-281-1720
Mid-Mod Madhaus
115 Roberts St
Fargo, ND 58102
(701) 306-4131
Modern Textiles
17 7th St S
Fargo, ND 58103
701-566-8749
Old Navy
4440 13th Ave SW
Fargo, ND 58103
(701)-282-4341
Others
17 7th St, Ste 201
Fargo, ND 58103
Pinch & Pour
210 Broadway
Fargo, ND 58102
701-356-7779
Real Deals Home Decor
3401 S University Drive
Fargo, ND 58104
701-212-0164
Red Silo Studio
12 Broadway N
Fargo, ND 58102
701-478-3822
Tochi Products
1111 2nd Ave N
Fargo, ND 58102
701-232-7700
ULTA Beauty
4420 13th Ave S
Fargo, ND 58103
(701) 281-4831
Underbrush Gallery
1450 25th St S
Fargo, ND 58103
701-235-2228
Unglued
408 Broadway
Fargo, ND 58102
701-205-1597
Violet Vintage
1 1/2 South 8th St
Fargo, ND 58103
701-478-4525
lizzy's
410 N Broadway
Fargo, ND 5810
2701-235-4902

Boucle
616 Main Ave
Fargo, ND 58103
701-356-9276
Northern Home Furniture & Design
505 N Broadway
Fargo, ND 58102
701-271-1550
O'Day Cache
317 N Broadway
Fargo, ND 58102
701-293-2088
One World Boutique
614 Main Ave
Fargo, ND 58102
701-297-8882
Prairie Petals
210 N Broadway, Suite 104
Fargo, ND 58103
701-364-0151
Proper & Prim
317 Broadway
Fargo, ND 58102
701-364-0133
scandesign
110 N Broadway
Fargo, ND 58102
701-365-0900
Wimmer's
602 Main Ave
Fargo, ND 58102
701-232-2008
Gordmans
5100 14th Ave SW
Fargo, ND 58103
701-492-2982
SHANNALEE
313 Broadway
Fargo, ND 58102
701-232-3300
Walmart
4731 13th Ave SW
Fargo, ND 58103
701-281-3971
MODE Inc.
4302 13th Ave S
Fargo, ND 58103
701-478-5858
Boerth's Gallery
212 Broadway
Fargo, ND 58103
701-235-8923
The Arc Attic Treasures
3201 43rd St. S.
Fargo, ND 58104
701-364-9762
Pout Baby Boutique
4325 13th Ave S #6
Fargo, ND 58103
701-356-7688
Nordic Needle, Inc.
1314 Gateway Dr SW
Fargo, ND 58103
701-235-5231
Swanson Health Products
109 Broadway
Fargo, ND 58102
701-293-9842
ecce gallery
216 Broadway
Fargo, ND 58102
(701) 298-3223
Eco Chic Boutique
4955 17th Ave S
Fargo, ND 58103
701-356-6600
Revolver
627 1st Avenue North
Fargo, ND 58102
701-347-2154
Scheels
4550 15th Ave S
Fargo, ND 58103
701-298-2918
Zandbroz Variety
420 Broadway
Fargo, ND 58102
701-239-4729
Northport Shopping Center
25th Avenue North & Broadway
Fargo, ND 58103
Southpointe Mall
24th Street South & 32nd Avenue South
Fargo, ND 58103
TJ Maxx Plaza
42nd Street SW & 13th Avenue South
Fargo, ND 58103
University Square Mall
26th Avenue South & University Drive South
Fargo, ND 58103
West Acres Shopping Center
3902 13th Ave. S.
Fargo, ND 58103
701-282-2222
Willi Nilli
505 N. Broadway
Fargo, ND 58102
701-235-1164
Target
4202 13th Ave SW
Fargo, ND
Kohls
4444 13th Avenue SW
Fargo, ND 58103
701-277-8277
Gallery 4, LTD
118 Broadway
Fargo, ND 58103
(701) 237-6867
Godiva
First Center South
25th Street South & 32nd Avenue South
Fargo, ND 58103
Market Square Shopping Center
14th Avenue South & 25th Street South
Fargo, ND 58103
Plains Art Museum
704 1st Ave N
Fargo, ND 58102
701-232-3821